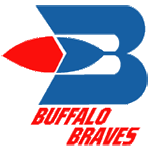 The Braves came into the NBA in 1970, and for most of their time in Buffalo they struggled. However by 1973 they made the playoffs with scoring sensation Bob McAdoo leading the way. They also had players Jim McMillian, Garfield Heard, Randy Smith, and rookie of the year Ernie DiGerogio playing under flamboyant coach Jack Ramsay. McAdoo was the NBA leading scorer multiple years running, and the Braves appeared to be on the rise.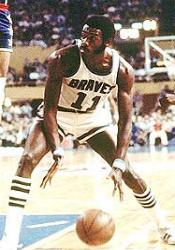 They made the playoffs three consecutive years under Ramsay, however they came up against the historic Celtic teams of the 70s that eliminated them in two of their three playoff appearances. The other loss came against the Washington Bullets, losing a game 7 on the road. After the final playoff loss to the Celtics in 76, Ramsay moved on to Portland and eventually WON an NBA championship.
The Braves, a team with so much promise and ability would simply disintegrate. They would be sold the following season, and the new owner dismantled the team completely. Eventually the team would leave for San Diego and become the Clippers.
Basketball in Buffalo was over, and all there was left was memories of a team with rising young stars, a damn good coach in Jack Ramsay, and unfulfilled expectations. More ground work for...
The Buffalo Curse?